Tobacco Prevention and Control Branch
Reasons #2LoveSmokefreeNC Restaurants and Bars
#2LoveSmokefreeNC is a campaign celebrating North Carolina's Smoke-Free Restaurants and Bars Law, which went into effect in 2010. In eight years, smoke-free restaurants and bars have become part of our state's culture and just one more reason #2LoveSmokefreeNC!
Resources
Download and use these items on social media, your website, in restaurants or in publications. JPG images are provided at 300 DPI. For website use it is recommended you generate a 72 DPI file from the 300 DPI original.

For best printing results of the JPG files

, save to your machine and print the 300 DPI original using an image viewer (rather than trying to print directly from the web browser).
Posters / Images
11"H x 17"W Posters
24"H x36"W Posters
30"H x 8"W Chalkboard Style Menu Poster

Chalkboard Menu Style Poster (JPG, 7.4 MB)
Printable Kids' Menus (2-Sided)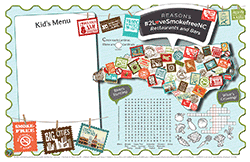 Front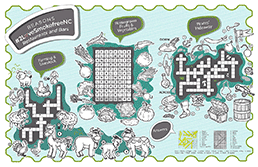 Back
11"H x 17"W Chalkboard Style Tabloids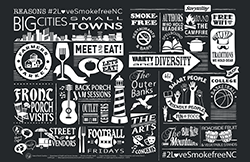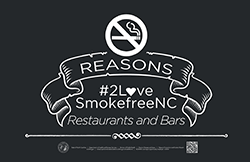 SmokefreeNC Information